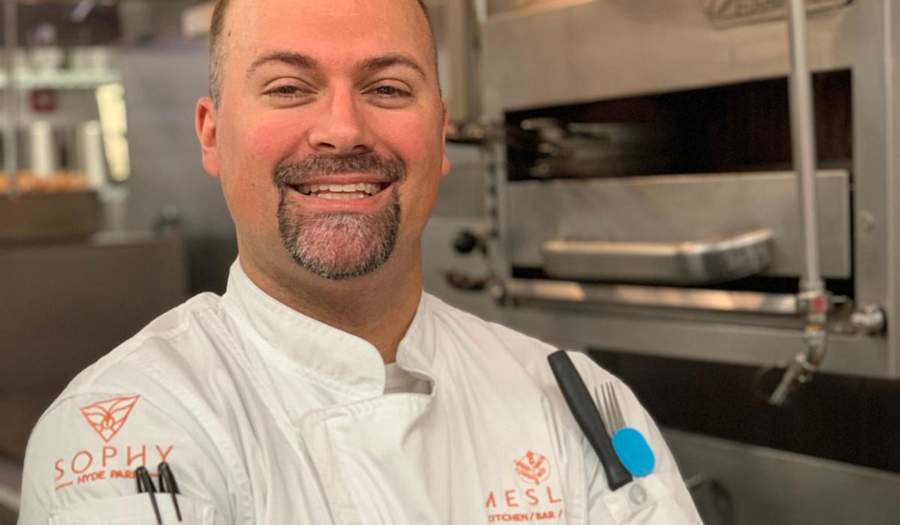 Matthew Cappellini is appointed Executive Chef of Mesler Kitchen | Bar | Lounge at SOPHY® Hyde Park
9/18/2019
Matthew Cappellini has been appointed the Executive Chef of Mesler Kitchen | Bar | Lounge at SOPHY® Hyde Park.
Chef Cappellini was formerly the Executive Chef at Le Meridien Oak Brook and previously worked at the two Michelin star Sixteen restaurant at Trump International Hotel in Chicago. He also did stints at the University of Notre Dame's Morris Inn and Harrah's Joliet Chicago Hotel and Casino. A graduate of the culinary arts program at Joliet Junior College, Chef Cappellini is a member of the American Culinary Federation and is an active participant in ACF approved competitions.
Chef Cappellini intends to introduce an increasing range of world flavors to the menus at Mesler, which is a concept he explored during his time at Sixteen. During his tenure at Le Meridien, he prepared Spanish tapas at the hotel's restaurant, El Tapeo, and some of that international flavor can be expected at Mesler as he adapts the menu.
"That cuisine had a wonderful earthiness and we'd like to introduce people in the Hyde Park area to new flavors that they might have needed to go downtown to find," he says. " Mesler means 'mix and mingle,' and that's what I'll be doing more of at the restaurant."
While the dining formula for Mesler will offer breakfast, brunch/lunch and dinner, as well as a lounge menu, the changes Chef Cappellini envisions will be gradual, changing and tweaking a recipe here and there.
For dinner guests at Mesler, Chef Cappellini has added "a black tagliatelle pasta served with a saffron lobster cream sauce, lobster, scallops, shrimp, and cherry tomatoes. We're also updating a classic burrata salad with smoked burrata, compressed tomatoes, house made focaccia croutons, basil foam, saba vinegar, and Hawaiian black sea salt. For lounge guests, at the bar and The Sanctuary, we're bringing on a Nashville Hot chicken sandwich, a fried chicken breast tossed in our house made hot sauce, served topped with coleslaw and pickles. It's served between a toasted brioche bun."
Mesler Kitchen is a warm 60-seat dining space, which was imagined as an author's dining room, with bookshelves carved into columns to partition seating areas. Walls feature a gallery of book covers and original pieces by local artists inspired by the literature of Hyde Park as well as selected art works from Hyde Park Academy High School. A 15-foot, double-sided fireplace connects and separates the hotel reception area from the 40 seat Mesler lounge. The Sanctuary Lounge is an outdoor lounge area that accommodates 35 guests. The indoor private dining room welcomes up to 14 guests and has its own outdoor patio and fire pit.