At Chicago's SOPHY® Hyde Park, Every Girl is a Future CEO
12/21/2021
At Chicago's SOPHY® Hyde Park, Every Girl is a Future CEO
Looking Back on Giving Back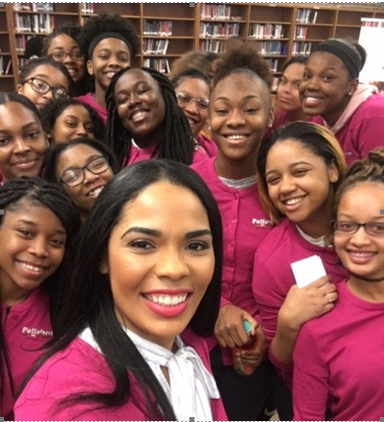 As 2021 draws to a close, it's the time of year when the SOPHY® Hyde Park team takes a moment to reflect on what mattered most, especially during a year that brought unprecedented challenges and instilled the passion and drive to overcome them. It was a year of the hotel doing what it does best – welcoming guests. In 2021, those included some of Chicago's most promising young women, thanks to a new philanthropic partnership with Polished Pebbles Girls Mentoring Program, a non-profit organization based on the South Side that helps young African-American and Latinx women ages 7-17 develop communication and business skills to prepare them for the future workplace.
When SOPHY Hyde Park began soul searching for a new and meaningful giving back program, the executive team knew it had to dig deep to match the community-driven values and purposeful mission that informs the hotel. After all, since opening in 2018, SOPHY has been intrinsically part of Chicago's South Side community, from the design elements throughout the hotel that serve as nods to the history and culture of Hyde Park to the artwork from local high school students that hangs on permanent display alongside pieces by established Chicago artists.
"The moment Anthony Beach, our General Manager, introduced the SOPHY team to Polished Pebbles CEO Kelly Fair and her mission to mentor young women on Chicago's south side, sparks flew. We knew they were a perfect match for SOPHY," says Rachel Clark, Sales and Marketing Director at SOPHY who is spearheading the partnership for the hotel. "We've been able to help introduce these promising young rock stars to the hospitality industry and give them transferable skills that will stay with them forever."
Here's a look back at some of the highlights from 2021 and a sneak peek at what's ahead in 2022.
Smile! Professional Headshot Day
Last summer SOPHY partnered with Polished Pebbles to offer complimentary, professional headshots for future CEOs by turning Mesler Chicago restaurant into a Polished Pebbles photo studio, complete with hair and makeup styling. Five young women participated in the event, including Axzhell Ellis, a high school senior from Calumet City, IL, who is the CEO/Founder of Axzhell's Closet , a unisex mobile closet selling hair, fedora hats, tie sets, clothes, lashes, nails, masks, and jewelry.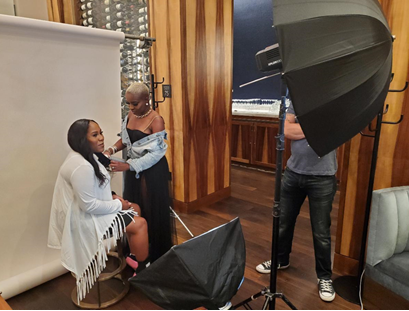 Spotlight on Teja Syers, Guest Services, SOPHY Hyde Park
Teja Syers joined Polished Pebbles when she was 11 years old. In May 2021 she graduated from Alabama A&M University with a B.S. in Business Administration and completed a comprehensive summer internship with SOPHY Hyde Park over the summer, which took her on rotation through all of the hotel's departments. Teja now works full time on staff at the Front Desk. Congratulations and welcome to the SOPHY team, Teja!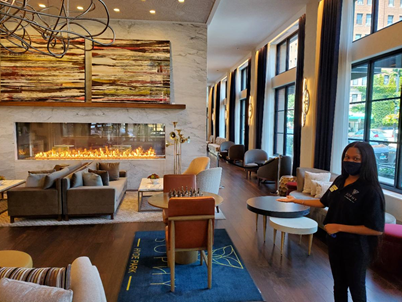 Every Girl is a CEO Virtual Conference
In October, SOPHY's Rachel Clark moderated the Polished Pebbles Every Girl is a CEO hospitality career panel engaging in an afternoon of empowering discussion with the next generation of female leaders and CEOs. The panel featured Sara Masterson, President of Olympia Hotel Management, SOPHY's management company, and other Chicago-area female executives.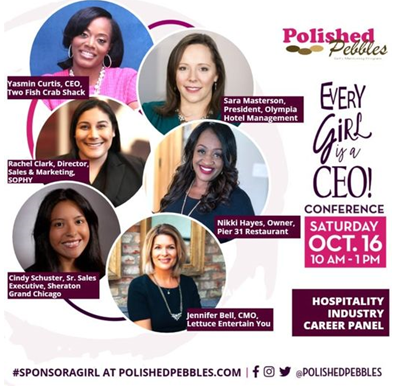 New Guest Give Back Program
As part of the on-going partnership with Polished Pebbles, SOPHY extended the Give Back program to guests. Now through March 2022, with a donation of as little as $20 per night, guests receive 15% off the best available room rates.

2022 will bring even more exciting events and opportunities for SOPHY Hyde Park to support Polished Pebbles and its future leaders and CEOs in hospitality.
Job Shadow Day
Polished Pebbles returns to the hotel after the New Year to participate in a Job Shadow Day, pairing aspiring, young executives with members of the SOPHY Hyde Park Hotel team for a first-hand experience and behind the scenes look into hospitality careers.
Father-Daughter Etiquette Dinner
On Sunday Feb 13, 2022, members of Polished Pebbles will attend a formal sit-down dinner to learn tips and practices for mastering business dining situations with aplomb. The event will be hosted at SOPHY's Mesler Chicago restaurant for each of the young women and their parents.
Giving Season 2021 Fundraising Drive
Polished Pebbles Girls launched its "Giving Season 2021 Fundraising Drive" to drive awareness to and raise donations for its key programing initiatives for 2022.
From now until December 31, anyone can go to the Polished Pebbles Giving Season 2021 Fundraising Drive page to learn more and donate.
Donation tiers range from $25 to $150, and money raised will fund Polished Pebbles' five largest programs which include providing seed money for a startup business via its "Mommy & Me Entrepreneurship Program," sponsoring a girl's attendance to its "Every Girl Is a CEO Conference," and more.
About Polished Pebbles
Polished Pebbles Girls Mentoring Program increases the communication skills and employability of young women for the future workplace. Since 2009, Polished Pebbles has worked with over 5,000 African American and Latinx girls and provided over 500 mentors to girls in more than 100 schools. Polished Pebbles works with tween and teen girls in 5th – 12th grades to help them become effective communicators at home, school, and their future careers. The organization serves 500+ girls and young women per school year through school-based and community-based mentoring in Chicago, the Chicagoland area, Indiana, Texas, and North Carolina. Polished Pebbles Girls Mentoring Program is an initiative of the Reflections Foundation – a tax-exempt 501(c)(3) approved charitable organization recognized by the IRS.