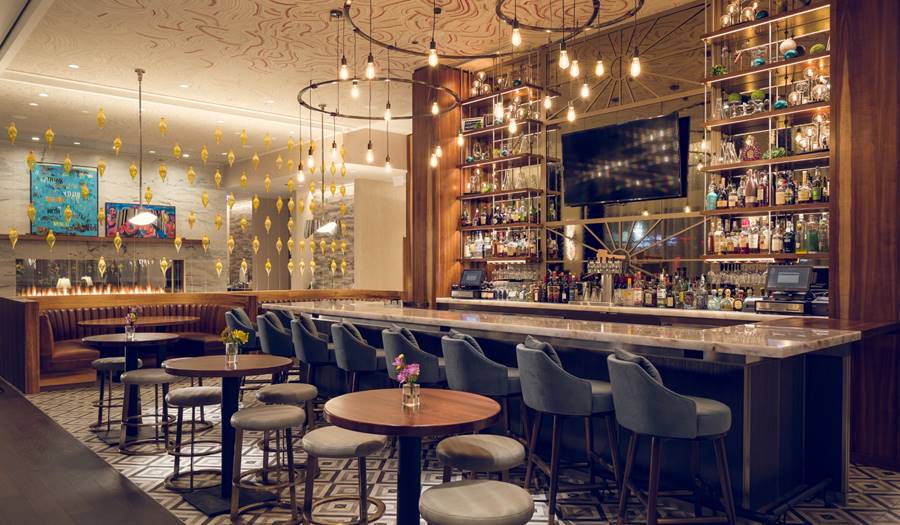 Mesler Chicago at SOPHY® Hyde Park is a Social Hub Serving Creative Comfort Fare
3/2/2022
Mesler Chicago at SOPHY® Hyde Park is a Social Hub Serving Creative Comfort Fare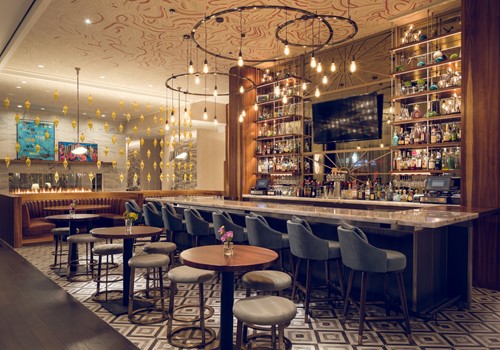 March 2, 2022. Chicago, IL. Since opening in 2018, Mesler Chicago has become one of the most stylish yet welcoming restaurants in Chicago. The restaurant, bar and lounge are at the heart of SOPHY® Hyde Park, the 98-room boutique hotel, considered the social hub of historic Hyde Park on the city's South Side. Its role as the magnetic, gathering place in the neighborhood will only continue to grow now that the nearby Obama Presidential Center has broken ground.
As the meeting place for local residents, academics from the nearby University of Chicago, hotel guests and for those simply out for a fun night on the town, Mesler is always buzzing with energy.
A 15-foot, double-sided fireplace connects and separates the hotel reception area from the 40 seat Mesler lounge, which is always lively and filled with conversations. It's a place where guests and locals rub elbows, the kind of space where even a quick drink with a friend can quickly become a celebratory occasion. Mesler's popular Happy Hour kicks off the evening with $10 cocktail specials, $8 glass of house wine and a $5 beer of the day.
The interiors of the signature restaurant are striking. This is a trendy, smartly-designed 60-seat dining space that was imagined to evoke an author's dining room, with bookshelves carved into columns to partition seating areas. The walls feature a gallery of book covers and original pieces by local artists inspired by the literature of Hyde Park as well as selected art works from Hyde Park Academy High School.
In warmer weather, guests can enjoy cocktails and light fare in the alfresco, shaded Sanctuary Lounge. There's also an indoor Private Dining Room, which can welcome up to 14 guests. It's ideal for celebrations, small business meetings, special occasions, and has its own outdoor patio and fire pit.
A Pedigree Chef Stirring Up Classic Comfort Food
Mesler is much more than brilliant interior design. Under Executive Chef Alejandro "Chef Eddy" Arreola, the former Chef de Cuisine at Four Seasons Hotel Chicago and The Ritz-Carlton, Chicago, it's become a chef-driven destination with an inventive menu of comfort food reimagined for 21st century palates.
Mesler manages the difficult high wire act of being a high-style, uplifting, and stylish restaurant that dispenses with the white tablecloths, the formality or the attitude. It's friendly and welcoming, and Chef Eddy's creative and laid-back menus have helped make Mesler one of Hyde Park's coolest spots.
"At Mesler, my cooking is seasonal and I pay attention to what is local and what is sustainable," says Chef Eddy, who has been with the restaurant since it opened in 2018. "The menu is changing all the time so I can feature the best ingredients in season."
Chef Eddy's decades of culinary experience helped him craft the menu for a diverse guest list and neighborhood clientele at Hyde Park's first-ever boutique hotel. What results is a menu that's deceptive in its apparent simplicity.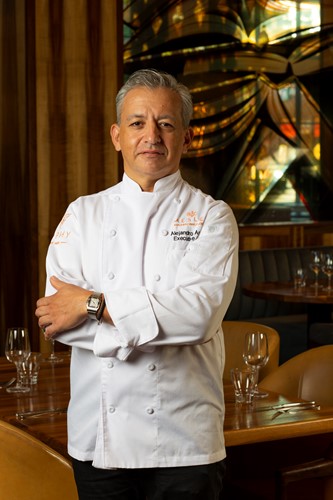 The Lunch and Dinner Menus offer inventive high-end comfort food. Like Seared Prime Beef Filet, with ramp puree, fried radish, ivory mushroom, and red wine sauce (above). There are Deviled Eggs with smoked salmon and Crispy Cauliflower with capers and parmesan, as well as Crispy Amish Chicken, Braised Lamb Pasta, and Honey Glazed Faroe Island Salmon. Southern favorites like shrimp and grits also make an appearance.
Casual options include a Lobster Roll, a Spicy Fried Chicken Sandwich and the ever popular 5th Ward Burger, served on a Brioche bun, with sharp cheddar cheese, house sauce, sautéed onions, pickles, and accompanied by French Fries.
During Chicago Restaurant Week (March 25 – April 10, 2022), Mesler will offer a 4 course $55 menu.
The neighborhood's beloved weekend brunch at Mesler has become a social occasion, a chance to reconnect and to linger over dishes like Crab Cakes Benedict, Vegetable and Quinoa Hash, and Chicken and Pearl Sugar Waffles. It's the perfect time for gathering with friends and family on a leisurely South Side weekend at Mesler.