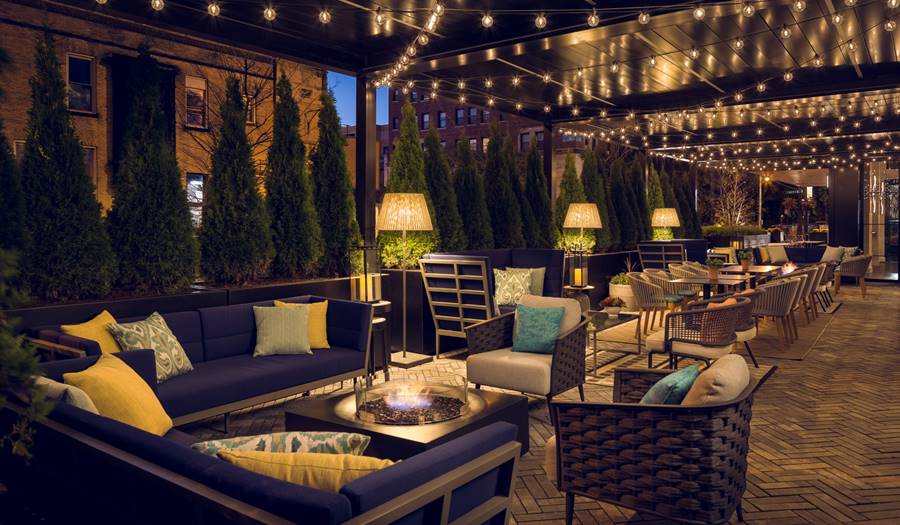 Summer in the City at Mesler Chicago
6/7/2021
Summer in the City at Mesler Chicago
The Restaurant at SOPHY® Hyde Park has Inventive Cocktails, Creative Comfort Food & Alfresco Seating
Summer in the city has arrived and Mesler Chicago at SOPHY® Hyde Park is launching a sizzling new menu and fun ways to experience food and drink at one of Hyde Park's coolest spots. The popular Happy Hour is back and fresh, new lunch and dinner offerings have been added to the seasonal menu, while the neighborhood's beloved brunch at Mesler remains a favorite for leisurely South Side weekends.
Hooray for Happy Hour!
Welcoming summer means embracing the return of Mesler where guests can enjoy cocktails and light fare in the alfresco, shaded Sanctuary Lounge. They can sip on aptly named cocktails like the 53rd Street Old Fashion, concocted with Old Forester 100 proof bourbon, rosemary maple syrup, old fashioned bitters, and orange bitters. Or a Hyde Park Gin & Tonic, made with Botanist Gin, elderflower liqueur, lime juice, cucumber, and mint. Mesler's Happy Hour runs every Tuesday – Friday, from 4:00 pm to 6:00 pm, when Mesler is offering $10 cocktail specials and a $5 beer of the day.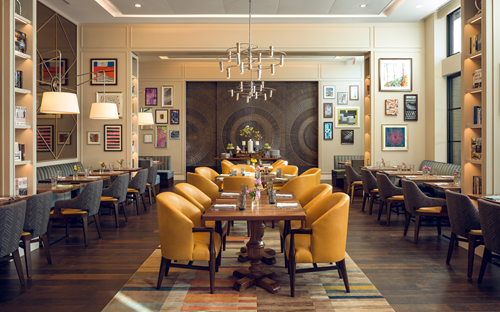 Summer Cooking from a Seasoned Chef
Mesler Chicago offers a trendy 60-seat dining space that was imagined to evoke an author's dining room, with bookshelves carved into columns to partition seating areas. Walls feature a gallery of book covers and original pieces by local artists inspired by the literature of Hyde Park as well as selected art works from Hyde Park Academy High School. A 15-foot, double-sided fireplace connects and separates the hotel reception area from the 40 seat Mesler lounge. There's also an indoor private dining room welcomes up to 14 guests and has its own outdoor patio and fire pit.
Like all of the city, Mesler Chicago is easing back into full-service mode this summer. Lunch and Dinner are being served Tuesday through Sunday. Starting this month, Brunch is offered from Thursday – Sunday, 9:00 AM - 2:00 PM. 
Executive Chef Alejandro Arreola, who was previously Chef de Cuisine at Four Seasons Hotel Chicago and The Ritz-Carlton, Chicago, has been with the restaurant team since it opened Mesler in 2018. His decades of culinary experience helped him craft the menu for a very diverse guest list and neighborhood clientele for the signature restaurant in Hyde Park's first boutique hotel. "At Mesler, the menu is changing all the time with an emphasis on local, sustainable produce and proteins," Chef Arreola says. "We try to offer to our patrons the best of what the different seasons have to offer. Our kitchen is from scratch. We produce the majority of our menu items in house, from handmade pasta to ice cream. It is all about quality, freshness and original flavors." This summer, the featured pasta is Casarecce Pasta, a short Sicilian pasta twist, served with freshly made spicy San Marzano tomato sauce, shrimp, basil, spicy bread crumbs, and ricotta. Other popular menu items are Chicken & Pearl Sugar Waffles, served with butter and hot pepper jam, and Shrimp and Grits, made with marinated shrimp, Cajun andouille sausage gravy, and scallions. Then there's the 5th Ward Burger, which is served on a Brioche bun, with sharp cheddar cheese, house sauce, sautéed onions, pickles, and accompanied by French Fries. "It's so popular," says Chef Arreola, "that I don't think we'll ever change it." Indoor dining and bar service at Mesler Chicago is currently restricted to 50% capacity but this is anticipated to change to 100% capacity by July.