Thomas Robertson Joins SOPHY Hyde Park as Mesler Chicago Food & Beverage Director
10/17/2022
Thomas Robertson Joins SOPHY® Hyde Park
as Mesler Chicago Food & Beverage Director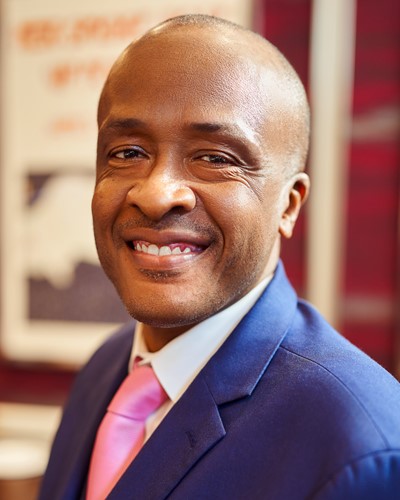 October 17, 2022. Chicago, IL –Thomas Robertson has been appointed Food & Beverage Director of Mesler Chicago restaurant at SOPHY® Hyde Park. Robertson arrives at Mesler at a timely moment, as the restaurant scene in Hyde Park and the city of Chicago emerge re-energized post-pandemic.
With an impressive resume and considerable experience in a range of Chicago hospitality settings, Robertson is poised to take a fresh look at new opportunities. Past stints include The Signature Room At the 95th, Chicago Marriott at Medical District/UIC, and the Holiday Inn Chicago Mart Plaza Hotel, along with nine years as an Instructor in Hospitality & Beverage at Triton College, where he was also Vice President of the Adjunct Faculty Association. Robertson holds a BA and an MBA from DePaul University and is a Certified Sommelier with the Court of Master Sommeliers and a Member of the Sommelier Guild. He was most recently at the Waldorf Astoria Chicago, where he was the Senior Food & Beverage Manager for Banquets and Events.
Mesler Chicago is already acclaimed as a stylish, beloved Hyde Park restaurant, bar, and lounge that has become the heart of the Hyde Park community, a lively gathering place for guests and neighborhood residents. Thanks to his background in academia and hospitality, Robertson is poised to take Mesler further.
"As a hospitality educator for nearly a decade, I look forward to nurturing our amazing staff at Mesler," Robertson says. "We'll showcase the interesting backstories about the local products, productions, and what sets the menu apart, and we'll share the excitement and knowledge with our guests. It's about taking a good thing to the next level and growing together. Our bartenders will evolve into mixologists and the servers into tableside concierges." 
Robertson plans to enhance Mesler's elegant Private Dining Room as a venue for meetings and working lunches. With such an extensive wine background, he's also looking to broaden Mesler's current wine list.
"I'm a Chicago native, I love Hyde Park, and I've been hearing about SOPHY since it opened," Robertson says. "We have fresh creative minds here, and when you walk by and see the buzz around the fireplace at night through the window, it's a good, upbeat vibe. I think we can make it an even stronger social hub for our community on 53rd Street."