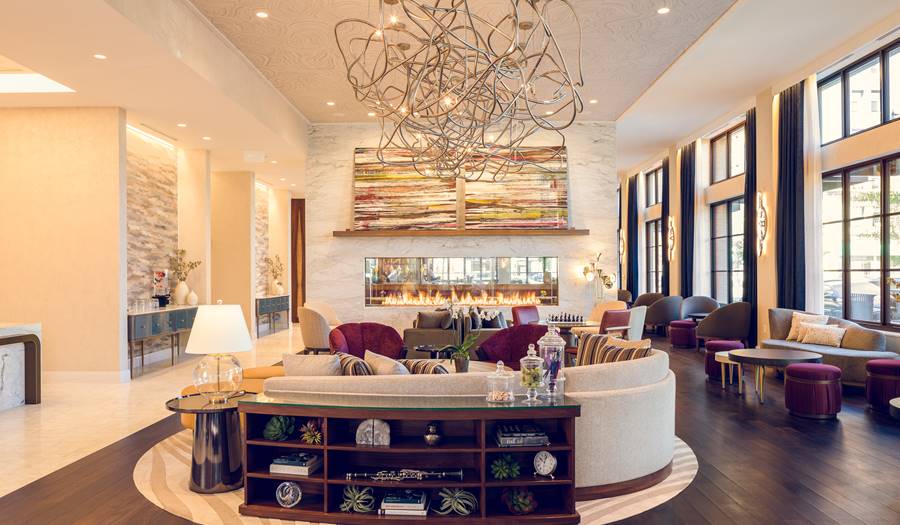 Chicago's SOPHY Hyde Park Ranks as One of "The 10 Best Hotels in Chicago" in Travel + Leisure World's Best Awards
7/13/2022
July 13, 2022. Chicago, IL. SOPHY® Hyde Park has been named one of the 10 Best Hotels in Chicago by the readers of Travel + Leisure in the 2022 World's Best Awards. The readers also ranked the city of Chicago among "The Best 15 Cities in the United States."
The stylish 98-room boutique hotel is located in the cultural heart of Chicago's Hyde Park neighborhood. The property is near the University of Chicago, the new David Rubenstein Forum, the Museum of Science & Industry, Frank Lloyd Wright's Robie House and the site of the future Obama Presidential Center.
Since opening in 2018, it has become the social hub for the diverse urban community that is the very definition of Hyde Park. The lobby living room with its striking fireplace is a gathering space to mix and mingle, as is the hotel's Mesler Chicago restaurant, bar and alfresco space called The Sanctuary. Under Executive Chef Alejandro Arreola, the former Chef de Cuisine at Four Seasons Hotel Chicago and The Ritz-Carlton, Chicago, it's become a chef-driven destination with an inventive menu of comfort food reimagined for 21st century palates.
"For an independent boutique hotel on Chicago's South Side, this is an extraordinary moment," said Anthony Beach, General Manager of SOPHY Hyde Park. "We are immeasurably grateful for the recognition from the readers of Travel + Leisure. I couldn't be prouder of our SOPHY Hyde Park team for going above and beyond every day. This is a win for all of us and for the historic Hyde Park neighborhood."
Developed by The Olympia Companies and SMART Hotels, SOPHY Hyde Park is managed by Olympia Hotel Management and aligns with Olympia's expertise in developing and managing independent, award-winning boutique properties that evoke a strong sense of place and become an integral part of the community.
"Congratulations to SOPHY Hyde Park for achieving this impressive top ranking," said Sara Masterson, President of Olympia Hotel Management. "Since the day it opened, the hotel has been a shining star among our independently-owned hotels and deservedly a standout overall in a field comprised of the industry's best-in-class properties. The 2022 World's Best Award confirms the success for which they were destined all along."
Designed as a four-diamond property and awarded LEED Silver certification, Chicago-based GREC Architects are the architects of SOPHY Hyde Park while the design firm of Stonehill Taylor is responsible for all of the hotel's interiors. 
Each year, the readers of Travel + Leisure vote for their favorite destinations, city hotels, resorts, and more in the World's Best Awards survey. The 2022 Travel + Leisure World's Best Awards are featured in the August issue of Travel + Leisure and online at https://www.travelandleisure.com/worlds-best.  
SOPHY® Hyde Park is a 98-room hotel in Chicago's historic Hyde Park neighborhood that was named one of "The Best New Hotels in the World" by the editors of Travel + Leisure. Developed by The Olympia Companies and SMART Hotels, and managed by Olympia Hotel Management, SOPHY features Mesler Chicago restaurant, a fitness center and a private dining room. The hotel is located near the University of Chicago, the new David Rubenstein Forum, the Museum of Science & Industry, Frank Lloyd Wright's Robie House and the site of the future Obama Presidential Center. SOPHY® is a member of the Preferred Hotels & Resorts Lifestyle Collection. SOPHY® Hyde Park 1411 East 53rd Street Chicago, IL 60615 https://Sophyhotel.com/
SOPHY Hyde Park
1401 East 53rd Street
Chicago, IL 60615
Reservations: 773-289-1005
@SOPHYHotel  #SOPHYHotel
Press Contact:
ConranPR
Gayle Conran
212.447.1010